US Department of State Document Authentication for Use in China
2023 China Express Visa VIP Services Tel:888-866-9909
---
How to authenticate document by US Department of State before Chinese Consulate authentication?
The US Department of State or USDOS, is the highest level of authentication provided in the United States. It is sometimes referred to as what foreign countries would call "Foreign Affairs Certification". The USDOS document authentication is necessary for federal documents such as FBI background checks and documents issued from the following states: Delaware, Idaho, Kentucky, Maryland, Montana, Nebraska, North Carolina, North Dakota, South Carolina, South Dakota, Tennessee, Utah, Virginia, West Virginia, Wyoming and Washington DC.
Since China is not a member of the Hague Apostille Convention, prior to sending it to the US Department of State, documents must require the following procedures:
Notarized by a public notary (if applicable)
Certification by Town or County Clerk (where applicable)
Authentication by the Secretary of the State where the notary public is commissioned or the state a certified copy (vital records and business records) was issued.
Sample of attached US Department of State authentication page
(click to enlarge):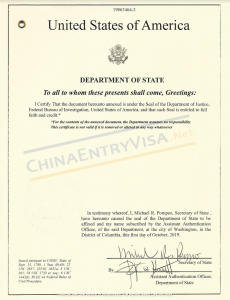 ---
Once authentication by the US Department of State is completed, you can proceed to Chinese Consulate Authentication.
Last Update Date:6-11-2020
chinese consulate authenticationhow to get us department of state authentication for use in china