Chinese Student (X1/X2) Visa Application Requirements
---
China Student visa (X) visa is required for individuals who have been admitted by a college or university in China. Student (X) Visa is divided into two types: X1 and X2. An X1 visa is issued to students who will be studying in China for more than 6 months. X2 visa is issued to those who will be studying for less than 6 months. X1 visa usually allow you to stay in China for up to 60 days per visit, and allow multiple entries for a term up to 5 years. An individual that holds an X1 visa must register at local public security bureau within 30 days of arrival in China. A Chinese Residence Permit will be issued to replace X1 visa. An X2 visa is usually issued for single entry for a term up to 6 months. The requirements for Student (X) visa are detailed below.
---
Do not staple any of the documents together. The Consulate will reject all stapled applications. Paperclips may be used.
---
1: Original Passport Plus a Photocopy of the Name Page
Please include the original passport. The visa will be printed on your passport.
It is recommended that passports have at least 12 months left before expiration.
The passport should have at least 2 blank visa pages. Please keep in mind, this does not include the last 3 pages, as
those are reserved by the US Department of State.
If you have previously held a Chinese Visa, please provide a photocopy of previous Chinese visa.
If previous Chinese visa is on an old passport, photocopy of old passport is required.
If you have a VALID Chinese visa on an old passport and would like to apply for a new visa, you will need to submit both
old and current passport.
Non-US passport holders must provide a photocopy of their proof of legal stay in the US. Green card, full copy off I-20
or long term US visa such as: L, H, F, TN. B1/B2 visa will not be eligible. Please do not send original unless
the Chinese Consulate specifically request it.
Certain Non-US passport holders cannot apply for a visa through third parties and must apply in person at the Chinese Consulate/Embassy. The following includes, but not limited to:
Afghanistan, Bangladesh, Cameroon, Congo, France, Ghana, Iran, Iraq, Nepal, Nigeria, Kazakhstan, Kyrgyzstan, Mauritania, Pakistan, Sri Lanka, Tajikistan, Turkey, Uzbekistan
---
2: Your Visa Application Form
Complete this application on your computer, print it out, and sign it. Do not fill out this application by hand, it will not
be accepted.
All fields must be completed. If a section does not apply to you, type in "None" or "N/A."
Incomplete forms, or forms with corrections will be rejected by the Consulate.
Print out the application on single-sided pages.
Do not staple the application together, it will be rejected. The application could be kept together with a paperclip.
Please check our Guide to Filling Application Form for tips.
---
3: One Recent Passport Photo
The photo needs to contain your full face on a white background.
The photo cannot be older than 6 months.
Your local drugstore (such as Walgreens or CVS) are great places to get a passport photo taken.
Please attach the photo to the application with a paperclip. Do not staple.
Please see: Chinese Visa Photo requirements
---
4: JW201 or JW202 Issued by the State Education Ministry of China
Original JW201 or JW202 plus high quality photocopy. The JW201 or JW202 should have an official stamped on it and
is obtained from the school in China.
Please visit here for more information on JW201 and JW202 forms
---
5: Admission Notice from School in China
Original Admission Notice plus high quality photocopy. The Admission Notice should have an official stamped on it and
is obtained from the school in China.
Sample of Admission Notice: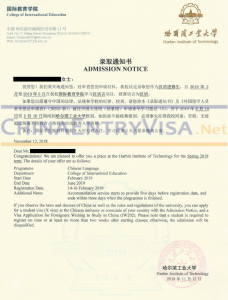 ---
6: Payment
Select your passport type:
We currently offer a Visa Package that includes return shipping! 
Current packages offered:
Basic Visa Package or Express Visa Package
You have the option to include your own prepaid label with your application or purchase from our website. Please see Shipping.
---
7: Additional Requirements For Each Consulate
Main requirements for Chinese visa are usually the same across the Chinese Consulates, however, there are some certain requirements for each Chinese Consulate. Please visit Additional Requirements Based on Jurisdiction to see if any of the listed rules apply to you.
---
Remarks:
Please include a copy of order confirmation email with your application.