Chinese Group Visa Application Requirements
---
Chinese Group Visa is required for tourist groups with a minimum of 5 members who must travel together in China. Group visa is usually issued for single entry. Group visa is issued on a separate sheet instead of visa sticker on the passport. The requirements for a Group visa are detailed below.
---
Do not staple any of the documents together. The Consulate will reject all stapled applications. Paperclips may be used.
---
Required Documents
Official Group Visa Authorization Letter from any head office of state owned tour operators such as China Travel Service (CTS), China International Travel Service(CITS), China Youth Travel Service (CYTS), Chinese National Tourism Bureau, or any Chinese provincial Tourism Bureau. Note: Official Visa Notification Letter is normally issued by provincial level tourism bureau or it's authorized agency or company. Your organizer in China will provide this letter. If your organizer in China doesn't know how to obtain it, please advise them to contact with local tourism bureau. Please click here for an sample group visa authorization letter.
One passport photocopy of each passenger. No original passports and photos are required. Your passport must have at least 6 months validity left or more.
Tour group list. We will send a form to be filled out with each passenger's information.
---
Here is a sample of Group Visa: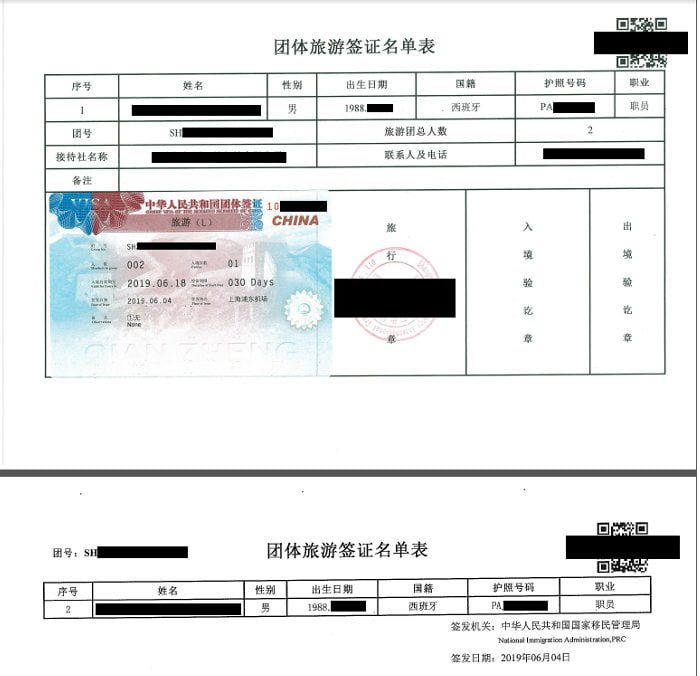 The visa will show the date it was issued, number of entries, maximum days of stay and valid for entry by date. The entry by date is the last day you must enter China by the indicated date. In the sample, it is June 18th so if you enter on that date, you can stay up to July 1th.
The visa will be requested upon entry to China. If the customs agent or officer goes to search for the visa in your passport, you can tell them you have a group visa and that it comes on a separate sheet. Upon leaving China, customs will keep the visa and therefore, you will have no trace or proof of your stay in China.
---
Remarks:
Processing time for group visa is longer than individual application.
Processing time takes 10 to 14 business days upon receipt of application.
Please call or email us for pricing.
Please include a copy of order confirmation email with your application.