Marriage Certificate Authentication for Use in China
2023 China Express Visa VIP Services Tel:888-866-9909
---
How to authenticate marriage certificate for use in China?
Marriage certificates issued in the US must be authenticated by the Chinese Consulate or the Chinese Embassy in order to be used in China. China is not a member of Hague Apostille Convention, therefore Apostille will not be accepted. The marriage certificate will first require authentication by the Secretary of State, then authenticated by the Chinese Embassy or Consulate as the last step.
---
How to obtain marriage certificate for use in China?
You will need to request a certified marriage certificate from the vital record office or department located in the state where you were married. The certificate should be visually similar to the original certificate.
Note: Some states such as New York require a certified extended copy of marriage certificate if you are to use the document internationally (click here for more details). Please check with your state's regulations if such a requirement exists.
Sample (click to enlarge):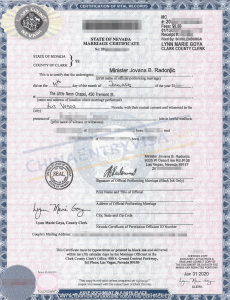 ---
I have obtained my certified marriage certificate, what is the next step?
You may proceed to Secretary of State authentication.
If your certificate is issued from the following states, further authentication by the US Department of State is required.
Delaware, Idaho, Kentucky, Maryland, Montana, Nebraska, North Carolina, North Dakota, South Carolina, South Dakota, Tennessee, Utah, Virginia, West Virginia, Wyoming and Washington DC.
Last Update Date:6-23-2020
how to authenticate marriage certificate for use in chinahow to authenticate marriage record for use in chinamarriage certificate for use in china