How to Apply for Chinese Tourist Visa (L Visa) 2020 Updated
2023 China Express Visa VIP Services Tel:888-866-9909
---
Chinese Tourist (L) visa is required for those who are traveling to China for tourism or visiting friends.
---
1: Original Passport Plus a Photocopy of the Name Page
Please include the original passport. The visa will be printed on your passport.
It is recommended that passports have at least 12 months left before expiration.
The passport should have at least 2 blank visa pages. Please keep in mind, this does not include the last 3 pages, as
those are reserved by the US Department of State.
Non-US passport holders must provide a photocopy of their proof of legal stay in the US. Green card, full copy off I-20
or long term US visa such as: L, H, F, TN. B1/B2 visa will not be eligible. Please do not send original unless
the Chinese Consulate specifically request it.
Certain Non-US passport holders cannot apply for a visa through third parties and must apply in person at the Chinese Consulate/Embassy. The following includes, but not limited to:
Afghanistan, Bangladesh, Cameroon, Congo, France, Ghana, Iran, Iraq, Nepal, Nigeria, Kazakhstan, Kyrgyzstan, Mauritania, Pakistan, Sri Lanka, Tajikistan, Turkey, Uzbekistan
---
2: Your Visa Application Form
Complete this application on your computer, print it out, and sign it. Do not fill out this application by hand, it will not
be accepted.
All fields must be completed. If a section does not apply to you, type in "None" or "N/A."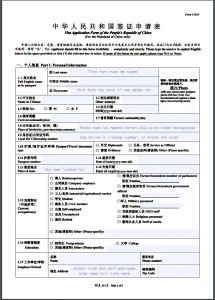 Please check our Guide to Filling Application Form for tips.
---
3: One Recent Passport Photo
The photo needs to contain your full face on a white background.
The photo cannot be older than 6 months.
Your local drugstore (such as Walgreens or CVS) are great places to get a passport photo taken.
Please attach the photo to the application with a paperclip. Do not staple.
Please see: Chinese Visa Photo requirements
---
Last Update Date:12-19-2019
10 year chinese visachinese tourist visachinese tourist visa 2020chinese visachinese visa 2020how to apply for chinese visa