FBI Background Check Authentication for use in China
2023 China Express Visa VIP Services Tel:888-866-9909
---
How to authenticate a FBI background check for use in China?
For individuals looking to work in China, a no criminal record check will be required to obtain a work permit. Like any document to be used in China, it must be authenticated by the Chinese Consulate or Chinese Embassy. While some employers in China will accept a local police or state background check, FBI background reports are more widely accepted.
Since an FBI background check is a federal document, it must be authenticated by the US Department of State before submitting to the Chinese Consulate or Embassy for final authentication.
---
How to obtain a FBI background check?
1.) You will go to the FBI website, complete the Applicant Information Form and submit a request.
2.) You must submit your fingerprints either at a participating USPS location to submit your fingerprints electronically or you may choose to mail your completed fingerprint card along with a copy of your confirmation email. The mailing address will be on the FBI website. You can also contact an FBI-approved channeler and check if they would be able to electronically submit your fingerprints.
The FBI will process your request upon receipt of your completed fingerprint card in the date order it was received. Processing time usually takes 3-5 business days. If you have opted for a digital version of your FBI report, you will be able to download the report in PDF format once it is ready.
If you are currently located in China, please refer to this link for local fingerprint services: https://rb.gy/kr4wlm
Sample (click to enlarge):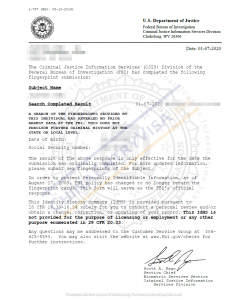 ---
CEV offers services for submitting FBI background request on your behalf and bundled services including FBI request, US Department of State authentication and Consulate authentication. Please email us for more details.
---
I have my FBI background check, what are the next steps?
Once you have received your FBI background check, you will proceed to US Department of State Authentication, then Chinese Consulate Authentication.
Last Update Date:6-11-2020
how to authenticate FBI background check for use in Chinahow to authenticate FBI background report for use in Chinahow to authenticate FBI report for use in China