Consulate Finder Map
---
Embassy and Consulates General of the People's Republic of China
The people's Republic of China currently maintains one Embassy in Washington D.C., but also maintains 5 consulates-general in the following U.S. cities: New York, NY; Chicago, IL; San Francisco, CA; Los Angeles, CA
All states that were under Houston are now under the Embassy in DC.
Click on the name of the state or territory of the United States in which you reside and our website will automatically direct you to the Chinese Consular post that holds jurisdiction over your area of residence.
Please be advised that sending your visa application or document(s) to the incorrect office may result in complication or delay in processing or even denial of application.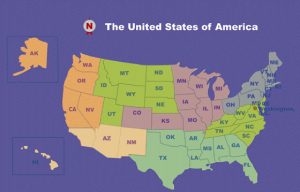 | | | |
| --- | --- | --- |
| Chinese Embassy in Washington | Consulate in New York | Consulate in Chicago |
| Washington DC | Connecticut(CT) | Colorado(CO) |
| Delaware(DE) | Maine(ME) | Illinois(IL) |
| Idaho(ID) | Massachusetts(MA) | Indiana(IN) |
| Kentucky(KY) | New Hampshire(NH) | Iowa(IA) |
| Maryland(MD) | New Jersey(NJ) | Kansas(KS) |
| Montana(MT) | New York(NY) | Michigan(MI) |
| Nebraska(NE) | Ohio(OH) | Minnesota(MN) |
| North Carolina(NC) | Pennsylvania(PA) | Missouri(MO) |
| North Dakota(ND) | Rhode Island(RI) | Wisconsin(WI) |
| South Carolina(SC) | Vermont(VT) | |
| South Dakota(SD) | | |
| Tennessee(TN) | | |
| Utah(UT) | | |
| Virginia(VA) | | |
| West Virginia(WV) | | |
| Wyoming(WY) | | |
| Consulate in San Francisco | Consulate in Los Angeles | Consulate in Houston |
| Alaska(AK) | Arizona(AZ) | Alabama(AL) |
| Northern California(CA) | Southern California(CA) | Arkansas(AR) |
| Nevada(NV) | Hawai(HI) | Florida(FL) |
| Oregon(OR) | New Mexico(NM) | Georgia(GA) |
| Washington(WA) | Pacific Islands | Louisiana(LA) |
| | | Mississippi(MS) |
| | | Oklahoma(OK) |
| | | Texas(TX) |