Description
*During peak travel season or occurrence of special events , the processing times might be delayed by a couple of days. These delays can happen without notice. We appreciate your understanding and patience.
PROCEDURES FOR APPLYING A CHINESE VISA
1) Place an order.
$395 per Chinese Visa. This includes the consular fee, our service fee and return shipping. We only accept Visa or Mastercard at this time.
The default shipping address will be your billing address, please make sure it is correct. If you would like to have your order shipped to a different address, please list the address in the notes during checkout or email our customer service.
2) Prepare the following required documents:
(A) Passport
Original passport with at least six months remaining validity and blank visa pages. For 10 years visa, passport must have 12 months remaining validity.
(B) Visa Application Form
One completed visa application form. Form must be typed by computer, printed out, and signed. Other than your signature, the form cannot be handwritten. All fields must be filled. if a field does not apply to you, please fill with "N/A".
(C) Document Checklist
Visit our Homepage to and go to our How To tab to find requirements for the visa type you are applying for. Please email [email protected] with your order number, visa type, and scans of your application and documents for review prior to mailing. A mailing address will be provided.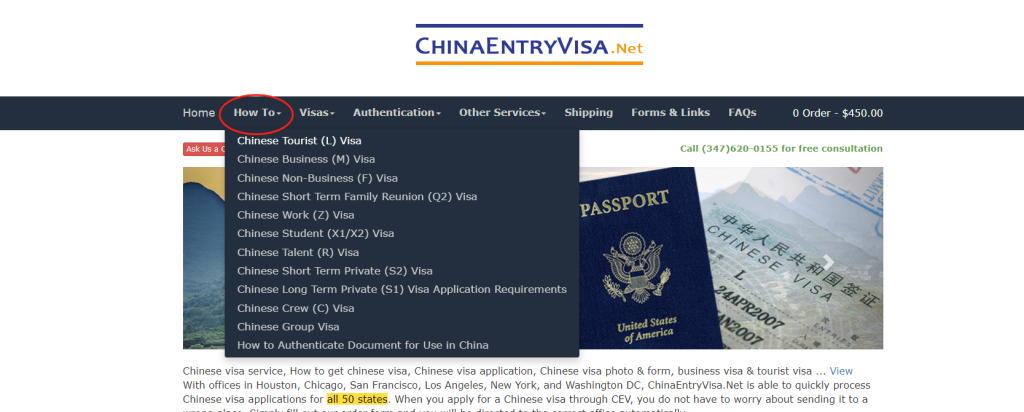 3) Mail your application and supporting document to us.
We will go over your application form and supporting documents as soon as it is delivered to our office. We submit applications the following business day.
4) Patiently wait.
Regular processing time is 2-4 weeks. Holiday closings will incur some delay.
Once your passport is retrieved from the Consulate, we will ship your passport back to you. You will receive a tracking number when your passport has shipped.
We recommend giving enough time between your Chinese visa application and your departure date in case of unexpected delays. We are not responsible for missed flights due to visa application delays.